2019 Southeast Designers & Architect of the Year
We are excited to announce our President and Principal Architect, Chris Reebals, has been selected as a finalist in the Southeast Designers and Architect of the Year Awards (SEDY).
Congratulations Chris! This is the third consecutive year that his talents and hard work have been recognized and nominated. Presented by ADAC and VERANDA, this award recognizes exceptionally talented architects and designers across the southeast. The winners will be honored during DESIGN ADAC, a three-day event "honoring the fusing of art forms with the practicality of function to create a new world of finely-crafted products and projects for home and hospitality." The SEDY awards ceremony will take place Thursday, April 25th. Thank you to the esteemed judges, Bunny Williams, Roger Seifter, and Steele Marcoux for recognizing Chris's work.
"These awards are held in high regard by the design community because the people and firms submitting know that the judges are highly qualified to appreciate and understand the work before them. Across the board, the quality of work from throughout the region stood out because it reflected a definite evolution of design in the Southeast. There was graciousness, elegance and a reverence for history and tradition in abundance, but there was also tremendous diversity in how those quintessentially Southern elements were executed."
—Katie Miner, General Manager of ADAC
We've Moved! A New Christopher Office
Exciting things are happening at Christopher Architecture & Interiors, and we wanted to share the news with you!
To accommodate our firm's growth, CAI has moved into a new office located in the heart of the historic Highland Park area. Conveniently located between the rapidly expanding amenities of downtown and the communities over the mountain, we are excited to be a part of Birmingham's thriving community.
The property was completely renovated, transforming an abandoned building into a timeless and inspirational office space. Large, open studio spaces were created to allow natural light into the center of the building and provide a greater connection to the various outdoor environments developed on the site. It's always a joy to design the places where we spend a vast amount of time. We have thoroughly enjoyed the process and look forward to sharing more about the space with you in the coming months.
Please update your records with the new address below. Our email, website and telephone numbers will remain the same.
Please direct all mail and deliveries to our new address:           
Christopher Architecture & Interiors
2601 Highland Avenue S
Birmingham, AL 35205
205-413-8531
FEATURE: "Dream Vacation Home in Florida" on Ocean Home
The family's vision for this beach house was to create a legacy home for generations to come.
The modern interiors feature unconventional design solutions, state of the art technology, and the ability to accommodate multiple families simultaneously. To take full advantage of the amazing beachfront views, the second and third floors have motorized radius glass walls that open and stack behind curved walls, creating living spaces that blend the inside with the out. The dream vacation home is located in Florida's prominent 30A.
We are excited to have our Coastal Luxury home featured on Ocean Home. Read the full article here.
To create a home that is comfortable for multiple families to use simultaneously, this luxury retreat encompasses four kitchens, a theatre, ten bathrooms, four master suites, and multiple bunk rooms. With low maintenance being a top priority, 90% of all fabrics in the home are performance fabrics that can handle all the elements of beach living including wet bathing suits and suntan lotion.
Durable finishes and materials – such as stainless-steel cabinetry and granite countertops in the main kitchen along with coral stone flooring – were carefully chosen to endure the elements of living on the coast.
To take full advantage of beachfront views, the team designed two motorized wall systems on the second and third levels that stack behind curved wall openings, allowing access to the radius infinity pool and sundecks. Lighting played a prominent role in the design of the interiors. Custom designed decorative fixtures along with RGB LED lighting can be seen throughout this 8,000-sf home. Back-lit floating glass stairs and onyx countertops in two kitchen areas create the wow factor the family craved.
Several tradesmen were commissioned to fabricate custom furniture pieces in various rooms, including the only traditional piece of furniture, a custom 7-foot Rosewood dining table with a center starburst pattern. Other pieces include a modern, custom 24-foot radial sofa hugging the curved wall in the media room, and a custom bed swing in one of the bedrooms.
The close proximity of the house to the adjacent State park, protected sand dunes, and surrounding endangered native animals played a crucial part in the construction. After purchases were made, furnishings were delivered under the allotted budget without sparing any expense.
COMMERCIAL TOUR: Caliber
A high-end firearm and sporting store that raises the bar for the outdoorsmen retail environment.
The team of Caliber owners and designers sought to create something unique, believing the store design could remind clients of the history, culture, and ambience of the classic sporting tradition.
A modern exterior is juxtaposed with timeless interior elements and materials, including wood, concrete, stone, and steel, blended in a contemporary design reminiscent of more traditional hunting lodges.
Keeping the elite outdoorsman in mind, the team designed an experience, not just a store. The exterior architectural design incorporates elegantly rustic materials. The interior design is organized around a central axis using repetition of wood-cased openings, wood beams, and light fixtures to modulate the space, while visually connecting various store departments and providing focal points at the hubs of activity. Fixture displays are elegant buy simple, not distracting from the exclusive merchandise. The design includes custom-built rod and fishing displays, custom-built gun and ammunition cabinetry, and custom displays for clothing and knives, combined with leather chairs and animal hid ottomans.

Custom-built iron chandeliers and wood doors accent rugged concrete walls and reclaimed oak floors. Sitting areas include fireplaces, both inside and out, where clients feel they are in an upscale hunting lodge rather than a retail space. Near the custom limestone interior fireplace is a lounge area and a coffee bar to further enhance a sense of elegant familiarity encouraging clients to return again and again.
HOME TOUR: Country Estate
"Timeless" is the adjective used to describe the clients' idea for their forever home.
As we grew to know our clients, we meticulously absorbed the descriptive words they used and incorporated them into the design. To successfully design a custom home for someone means to completely embrace their personalities and lifestyles and deliver an end product that reflects them exclusively. This homes is often used in seasonal features such as the Birmingham Home & Garden magazine.
Family and faith were immensely important to the client and therefore drove many design decisions. A dramatic feature distinguishing this estate's architecture is the large chimney wall that pierces the entire west wing of the home. The 35' long, 25' tall, undulating stone wall solved a programmatic need to create a private area for aging parents on the main level. The wall naturally provided a transition from the public space of the great room to the more private space for guests/in-laws on the other side. Entertaining gives the owners great enjoyment; therefore we created an open floor plan allowing them the flexibility to host large gatherings comfortably. Custom mouldings surround the expansive openings between the great room and kitchen, thoughtfully providing marked distinction of space without interfering with the open relationship.
Incorporating traditional antiques and family heirlooms, along with new furnishings, created an eclectic feeling for the interiors that made this newly built home feel like it had been there for years. The design team included storage and display cabinets throughout the home to feature the family's vast collection of dishware. The main level offers unique spaces such as the secluded in-law suite, a solarium dedicated for prayer and reflection, and a separate dish pantry. The basement provides areas for the couple's various interests like exercising, crafting and wood working, while the upper level is geared towards the anticipated future grandchildren.
1 . An Entry Experience Sets the Stage
The client wanted guests to experience the entry in a unique way. They did not want front columns or a traditional front porch so the design team created an approach to the front door under a cantilevered covered canopy. As you walk along the path under the splay of the roof, you get little glimpses inside the home. Traditionally, you might find a home where you walk into a foyer and there is a dining room on your right and a study on your left. With this entrance, however, you experience them simultaneously with the architecture from the outside. Flanked by a beautifully manicured courtyard, the approach is best described as a preamble to the foyer and the rest of the interiors.
2. The Chimney Wall is a Dramatic Interior Feature of the Home
A dramatic design element is the large chimney wall which pierces the home. The 35' long, 25' tall, undulating stone wall provides spatial distinction between the public family room and the private guest suite. The stone wall penetrates the house perpendicularly, from the basement through the first and second floors and the roof line. While it shines as a dramatic design feature, it also serves practical functions.
4. The Chimney Wall is the Focal Point of the Great Room
Flooded with natural light, the great room features a stonewall that passes through three floors and each side of the home. The custom limestone fireplace surround complements the limestone lintels above each built-in storage cabinet. Traditional furnishings create a cozy seating grouped around the family's heirloom baby grand piano.
5. Aisle to Guest Suite Through Chimney Wall and Interior Chimney Wall Opening
A walk down the main floor aisle takes you under a limestone lentil that spans the chimney wall opening and carries the weight of the masonry above it. Imagine walking through a 30-inch stone opening that runs transverse through the entire home. This element became a feature design piece, but also provided the requested spatial distinction.
6. Kitchen
A classic French-country style kitchen was created by carefully selecting various materials that blend to promote a warm and inviting feeling. By mixing metal finishes, installing antique lighting, designing custom cabinetry and incorporating low-maintenance materials, the kitchen took on an old-world charm with modern conveniences.
Following the classic French-country style, the cooking area stands alone featuring a custom hood surround and hand-painted ceramic tiles. The family's love for cooking and entertaining is embraced in the design of this spacious kitchen. The kitchen windows expand from countertop to ceiling and wall to wall, allowing an abundant amount of natural light to flood the interiors and provide an unobstructed view to the rolling hills beyond.
7. Master Suite
The master bedroom is a picture of tranquility with personalized monogrammed linens, floor to ceiling custom drapery and a soft seating group at the foot of the bed.
A center three-sided glass shower provided the transition layer distinguishing his and her spaces. The elegance of marble tiles and solid marble slabs on the shower walls make this spacious master bath feel like a personal spa. Set into its own niche, the free-standing tub is the ultimate relaxation. The large window provides views to the lawn and garden beyond.
8. Butler's Pantry and Laundry Room
Custom cabinetry line the halls in the butler's pantry connecting the dining room to the kitchen. The operable cremone bolts add an element of sophistication to the glass front cabinets displaying some of the family's heirloom dishware. The laundry room houses kennels for the homeowners' two dogs, Dixie and Tess. The family pets have their own entrance off the patio, so they can come and go as they please.
BEST OF CAI: Outdoor Spaces
We are convinced good design marries the built environment to the natural environment surrounding it. Humans are always trying to bring the outdoors in (bouquets of flowers on our coffee tables and indoor plants) and the indoors out (patio furniture and weather-resistant throw pillows). It is because we are at home when we are in nature. For this reason, Christopher Architecture & Interiors pays great attention to the design of outdoor spaces.
Facilitating this marriage is a design responsibility we never shirk and take great pleasure in. Our designs are often featured in industry publications like Southern Home magazine. Here are some of our favorite outdoor spaces:
FEATURE: Our Modern Farmhouse is presented on ArchDaily
We are excited to have our Modern Farmhouse design featured on ArchDaily, a website that consistently educates and inspires us. It's an honor to be included in "architects' main source for tools, information, and design inspiration."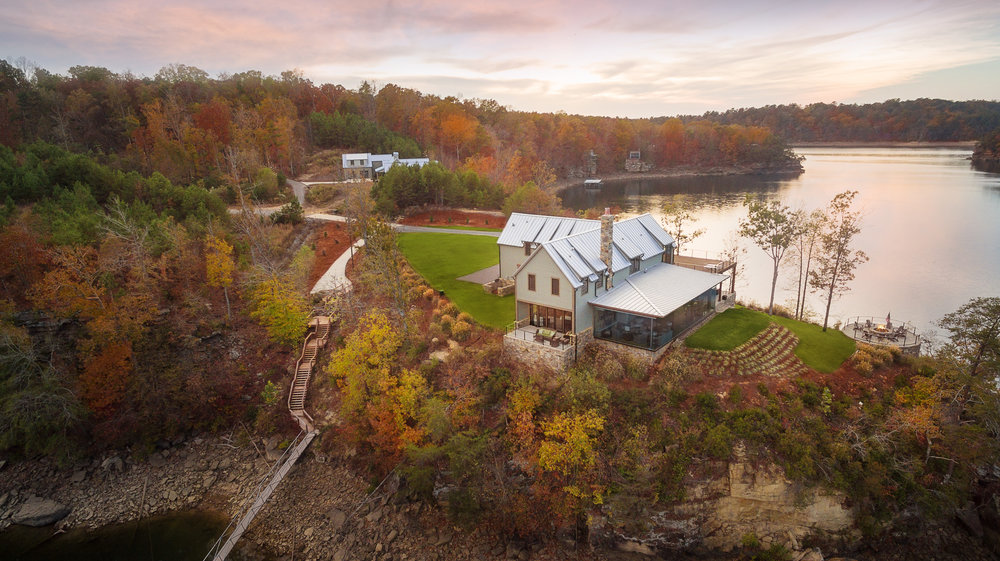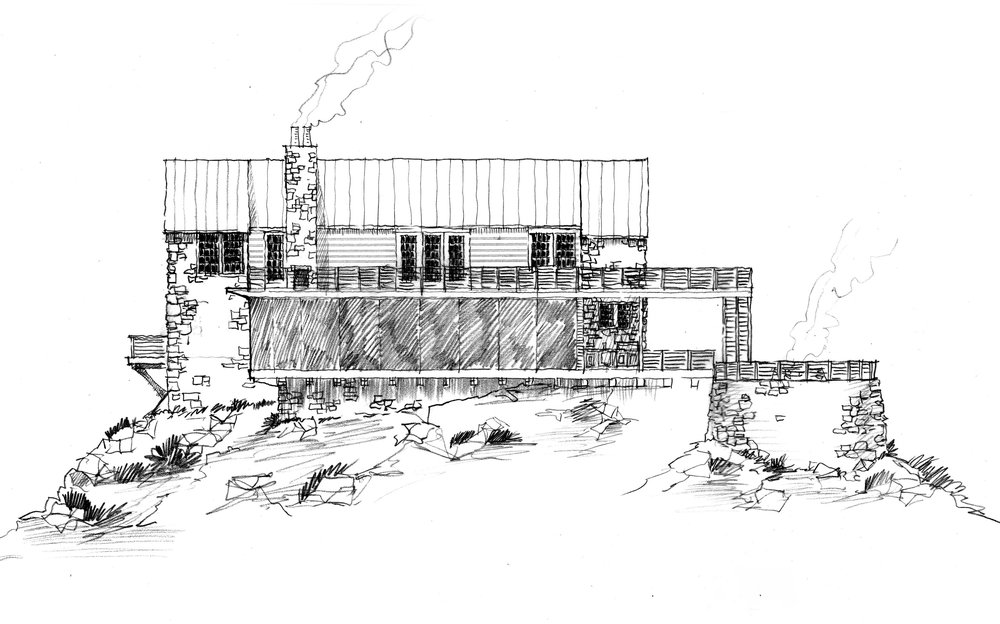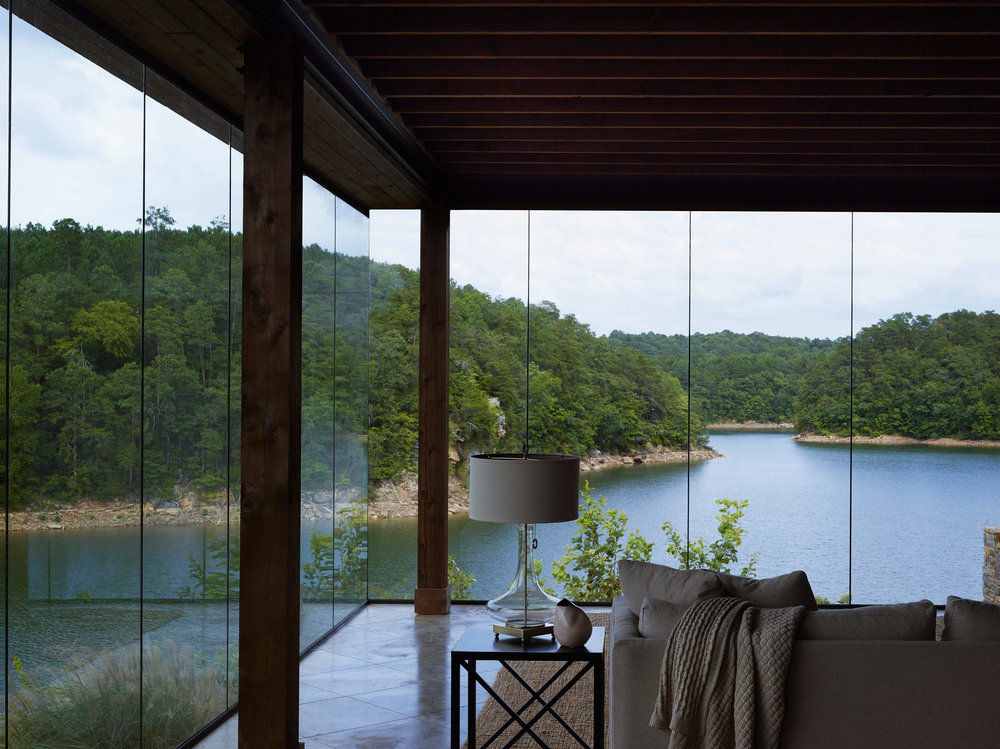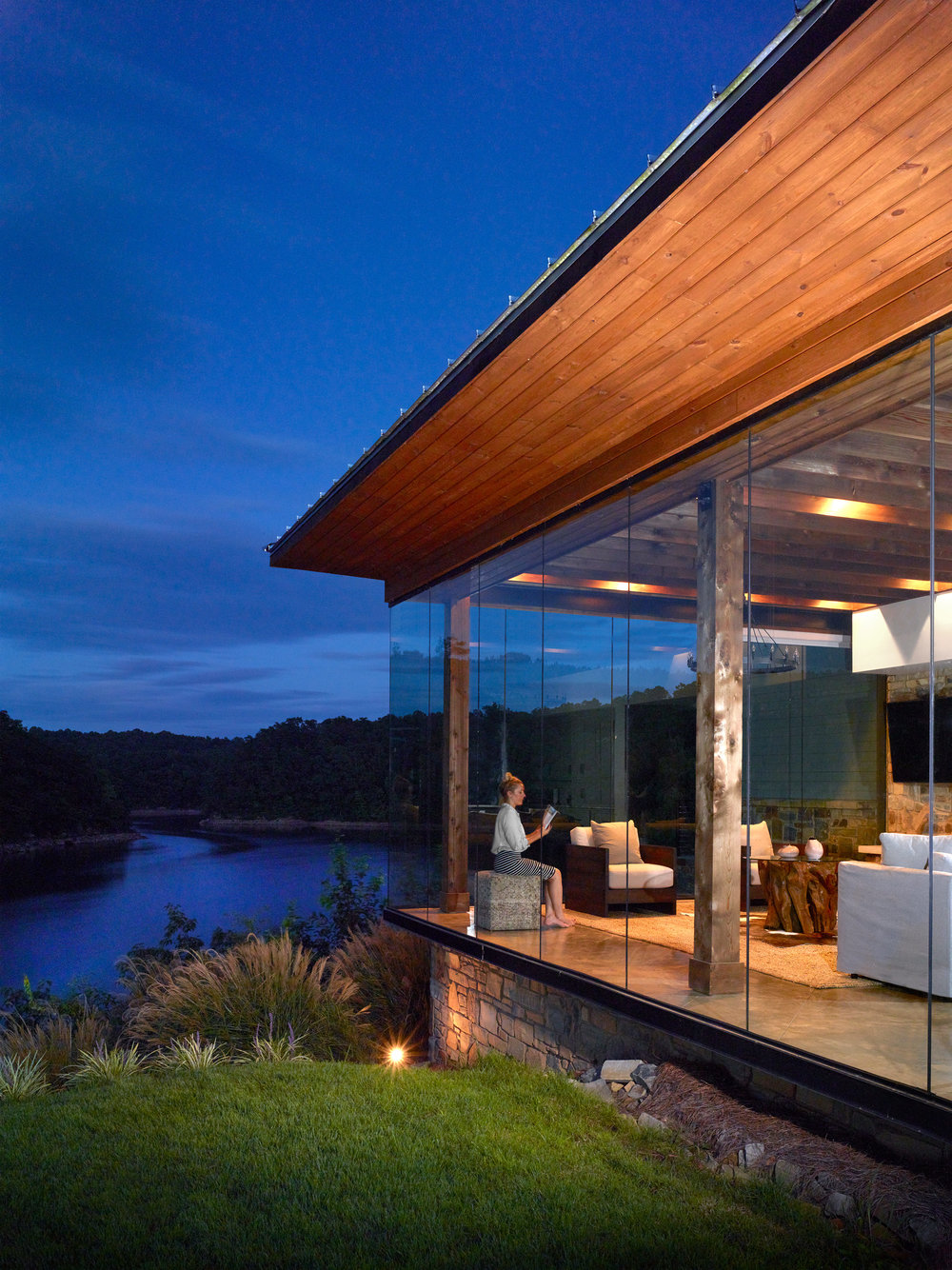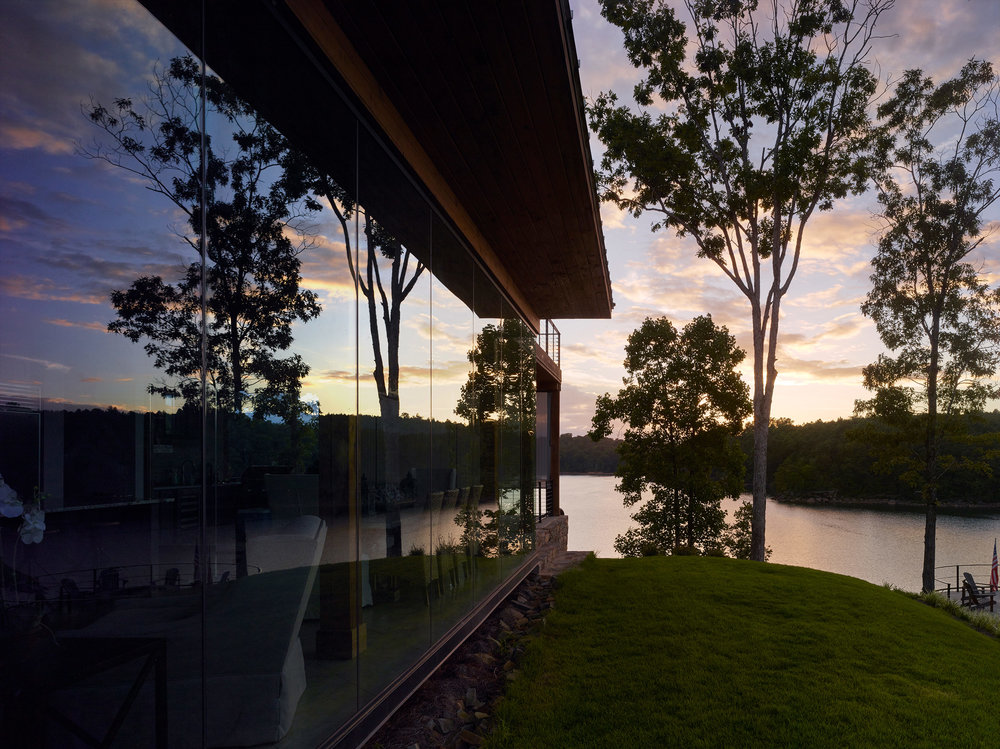 Choosing a Countertop Material
As in all design, you want your kitchen counters to be beautiful and functional.
Here, our vice president and director of interiors, Joanna Goodman, explores five hard-working and attractive materials she has incorporated into several elegant designs.
1. Soapstone
Soapstone is a natural stone, like granite, that is quarried. It is ideal for kitchen countertops for a number of reasons. It is heat resistant; you can use Clorox and other cleaners on its surface; and even though it can scratch, you can treat it easily with mineral oil to restore it to its natural state.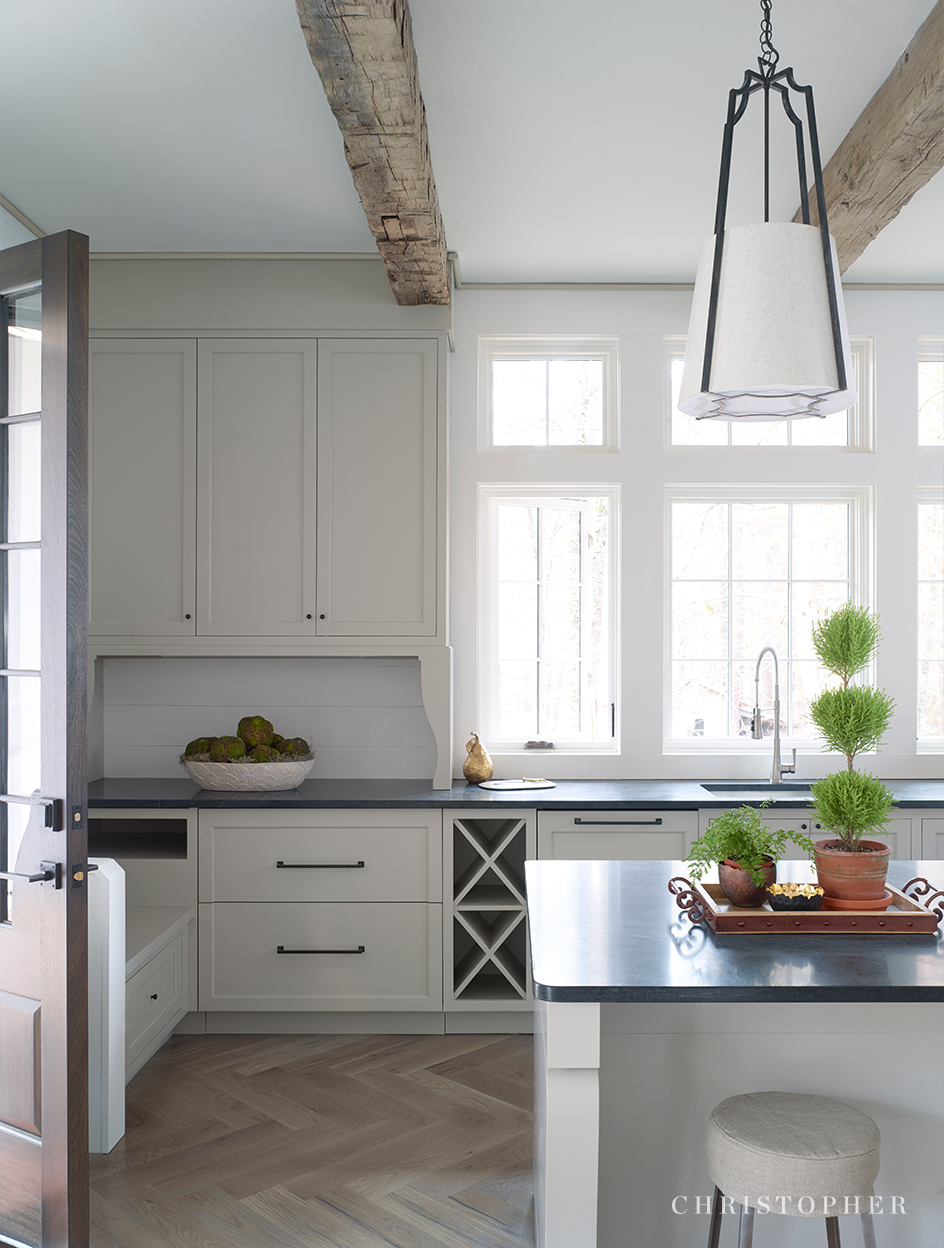 2. Marble
Marble has become a popular choice in recent years and remains the top choice for many homeowners. You can specify that the marble have a honed or polished finish, and seal it after installation to protect against stains. We typically prefer a honed finish in the kitchen because an acidic kitchen liquid like lemon juice or vinegar will etch a polished marble and leave a dull, whitish mark. If someone spills red wine on a honed marble countertop, rubbing half a lemon on the stain in a timely manner will remove it. As long as you choose carefully, know what to expect, and care for white marble countertops, they can be a beautiful, functional choice for your kitchen design that lasts a lifetime.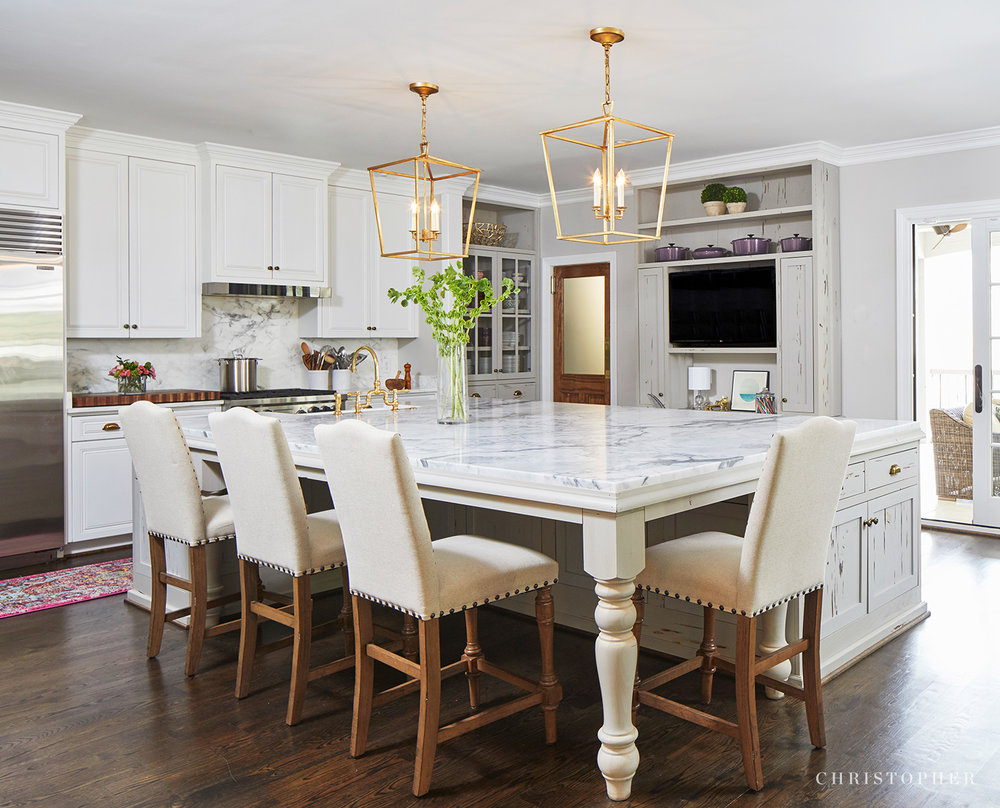 It is available in varying thickness: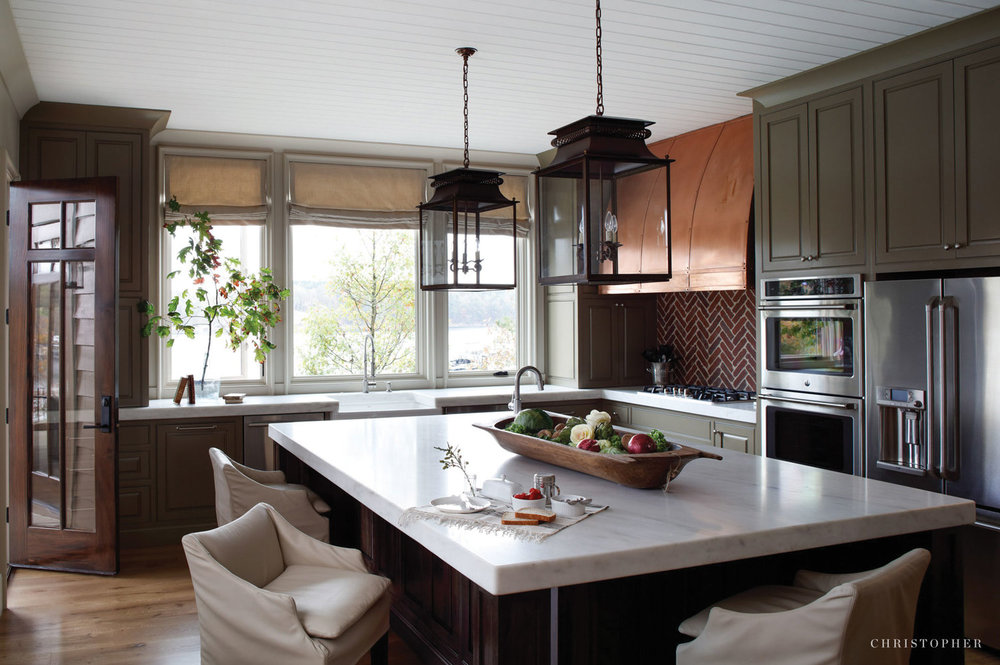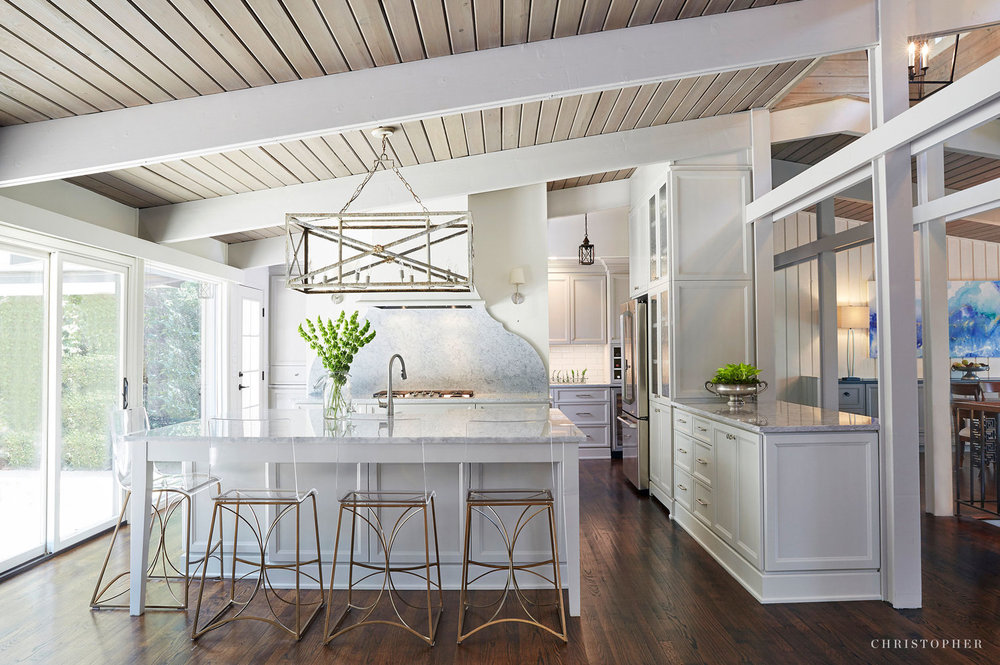 3. Quartzite
This is a white quartzite from Brazil that resembles the Italian Calacatta marbles in appearance, but is much harder and more durable. It can be used for kitchen countertops without having the scratching and etching issues experienced with marble.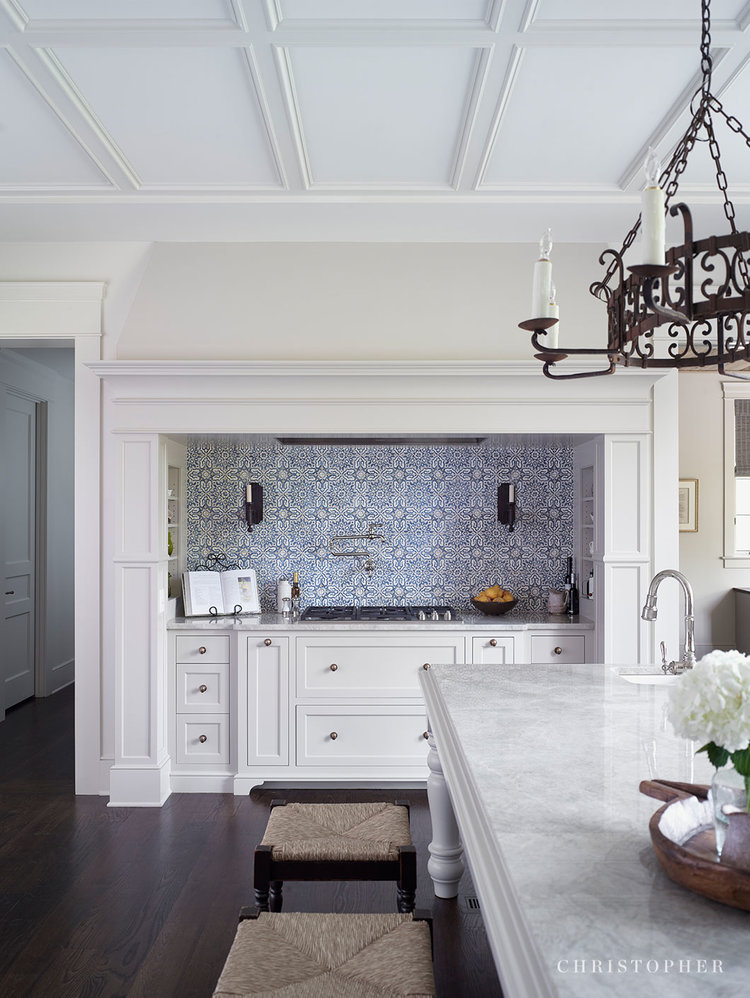 4. Onyx
If you are looking for a unique and rare option, onyx could be an option for you. It is available in a variety of colors and the "veining" adds contrasting colors to make these slabs look like a piece of art. For even more appeal, try backlit onyx, which has a wonderful glow that can create a wow factor.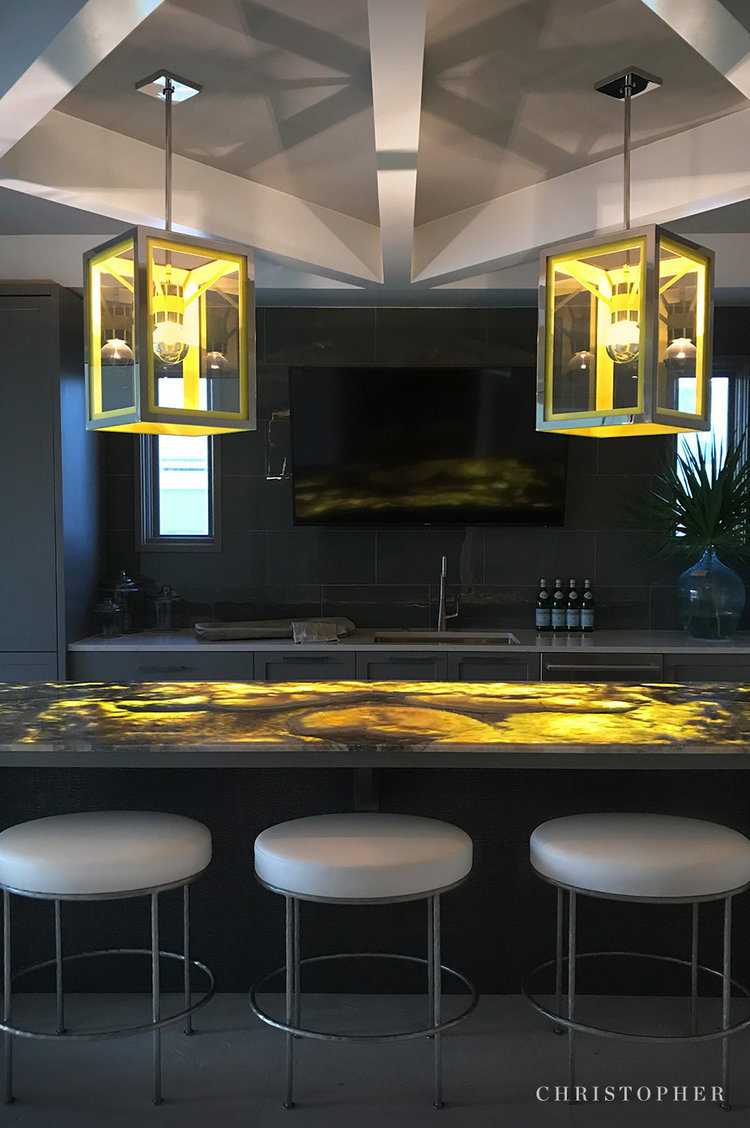 5. Fantasy Brown
Fantasy Brown is what we like to call a "combo stone." It is a combination of a wide variety of different mineral compositions that blur the lines of marble, granite and even quartzite. This particular stone is defined by the movement and waves of the earthy pastels swirling together, evoking images of a beach landscape.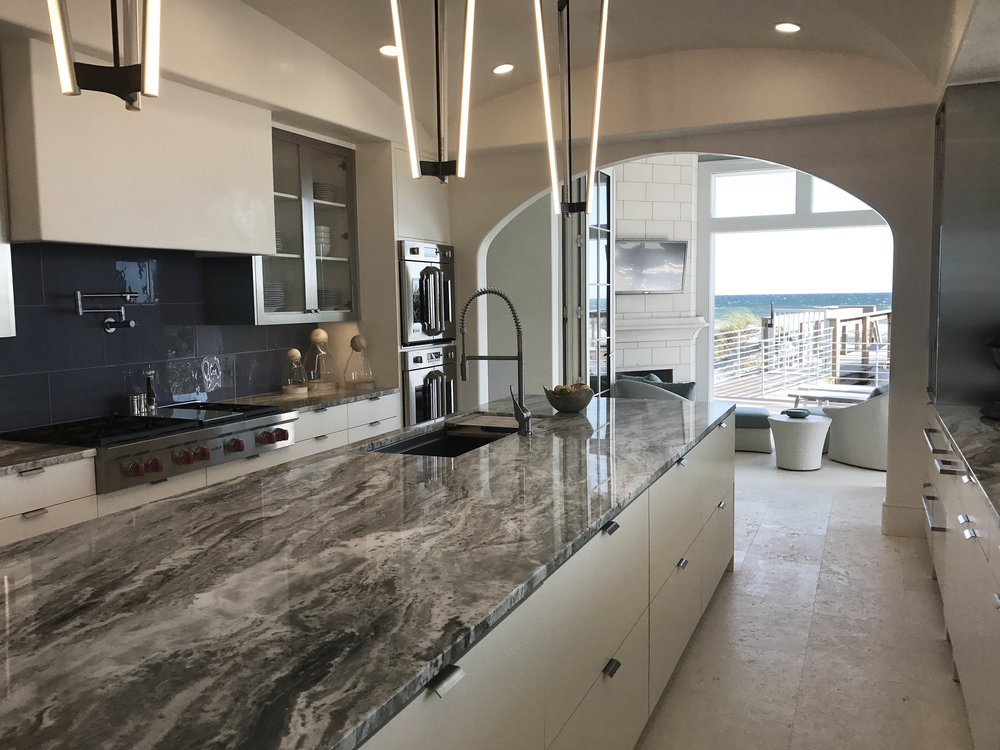 Using different types of materials in the same kitchen is acceptable. Below are two different kitchens. In the first, we used Olive Green Limestone around the perimeter and Bianco Rhino Marble on the island. In the second, we featured Calcutta Gold Marble on the sixteen foot long island and used soapstone around the perimeter.
Qualified designers will help you navigate selections that are both functional and aesthetically appropriate for your lifestyle.
BEST OF CAI: Room for Your Thoughts
They are the places where our days begin and end, not to mention the almost incalculable time in between.
Well, truthfully, a quick Google search told us that in a woman's lifetime, she'll spend the equivalent of one year, seven months, and 15 days in the bathroom, just a month longer than her male counterpart. That's quite a chunk of time in such a small domestic space. It's not a room that draws people in to gather and connect, rather it's often the place that offers a moment alone with our thoughts, or some brief and necessary peace and quiet.
So we've decided to pay attention to the bathroom; to make them beautiful, to acknowledge their importance and potential. Some boast smooth marble, some are sparkling white, some are warm and woody. They all surpass the needs they meet and offer beauty too. We are often recognized for our attention to interior design detail and are included in home features such Dering Hall.
Here are some of our favorite bathrooms: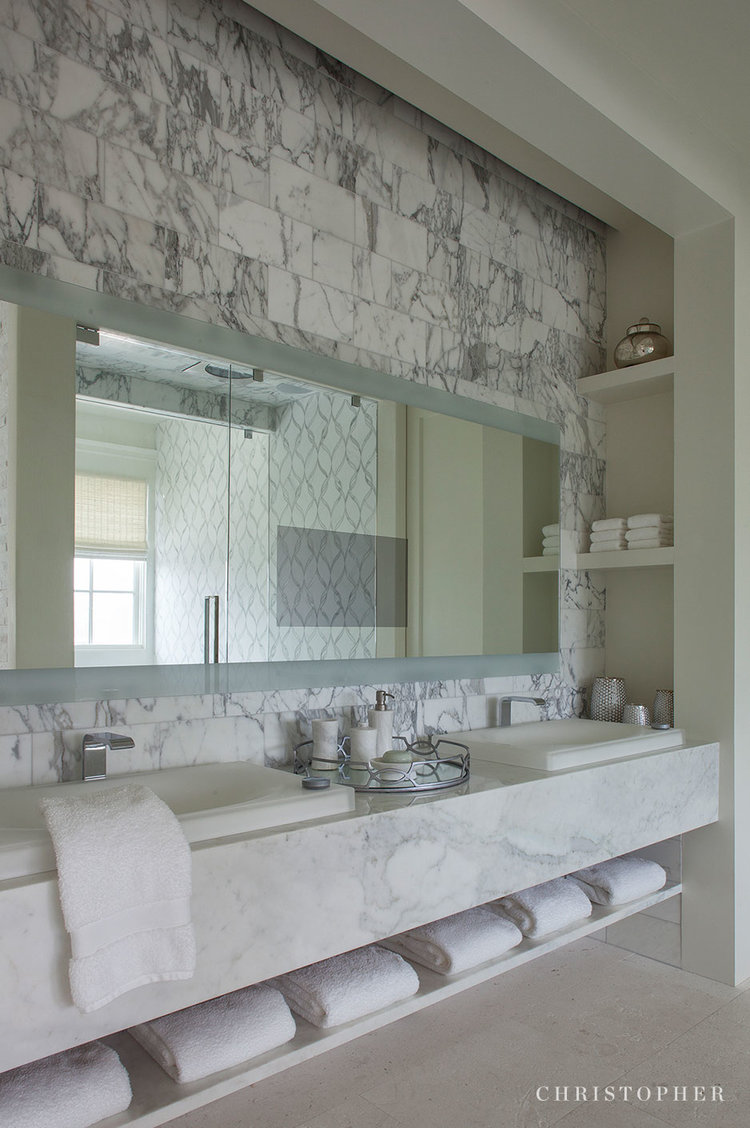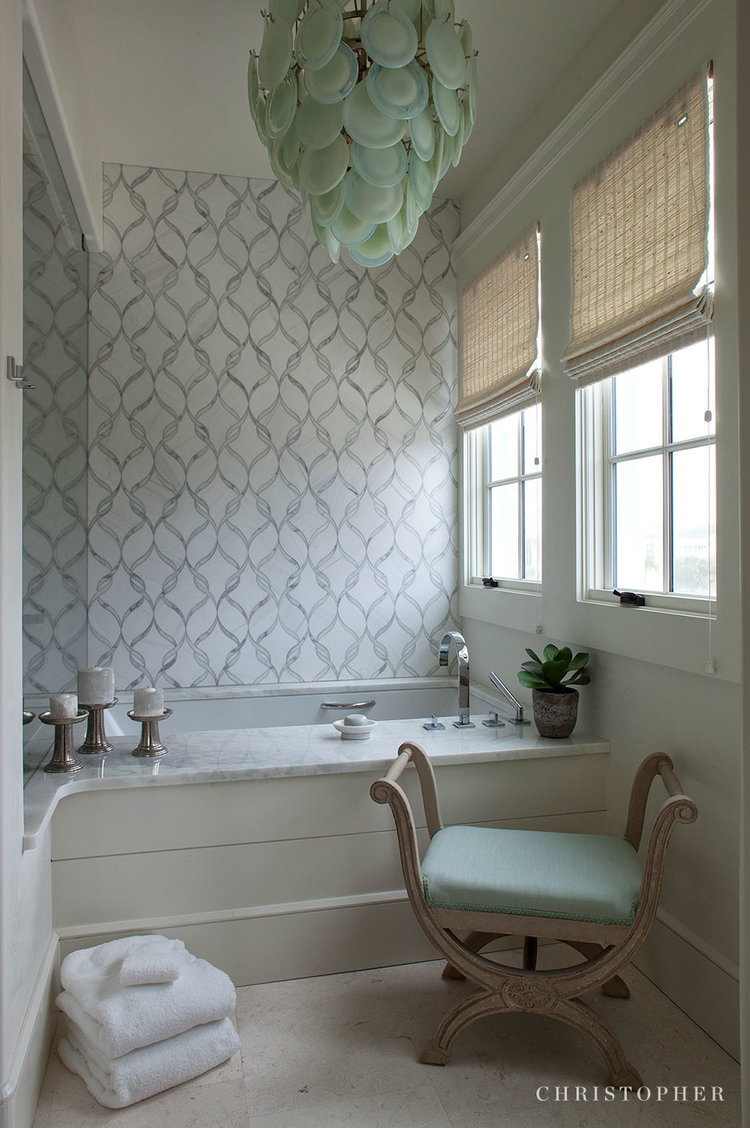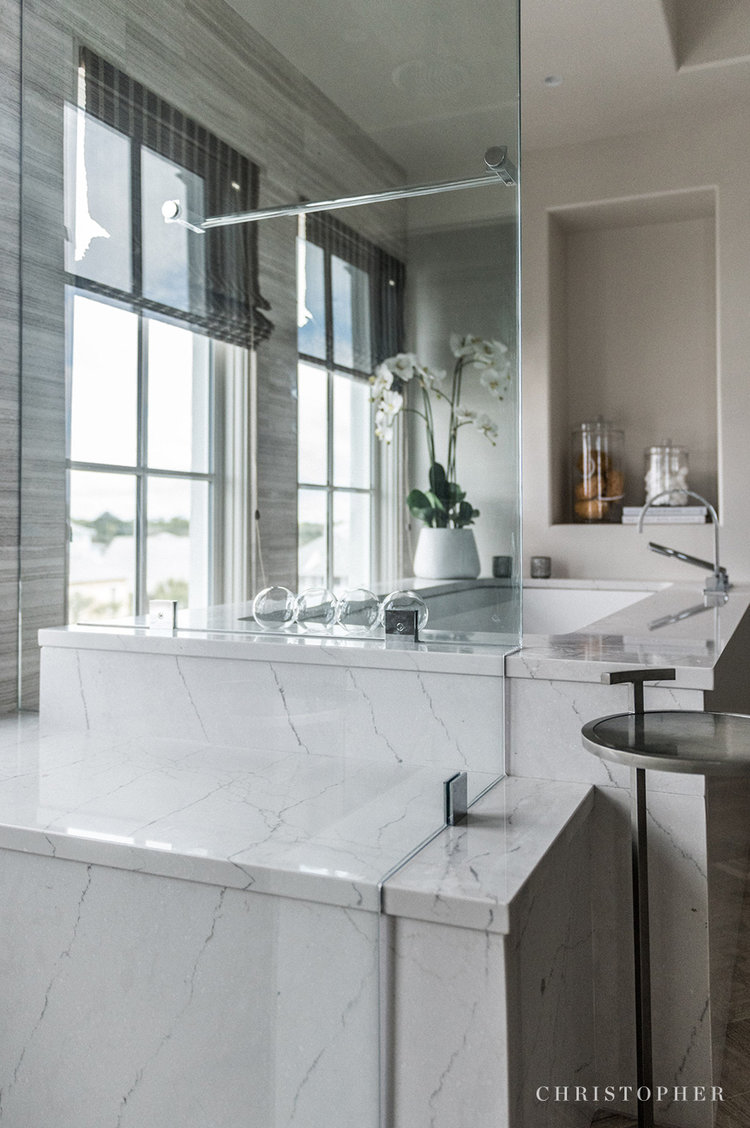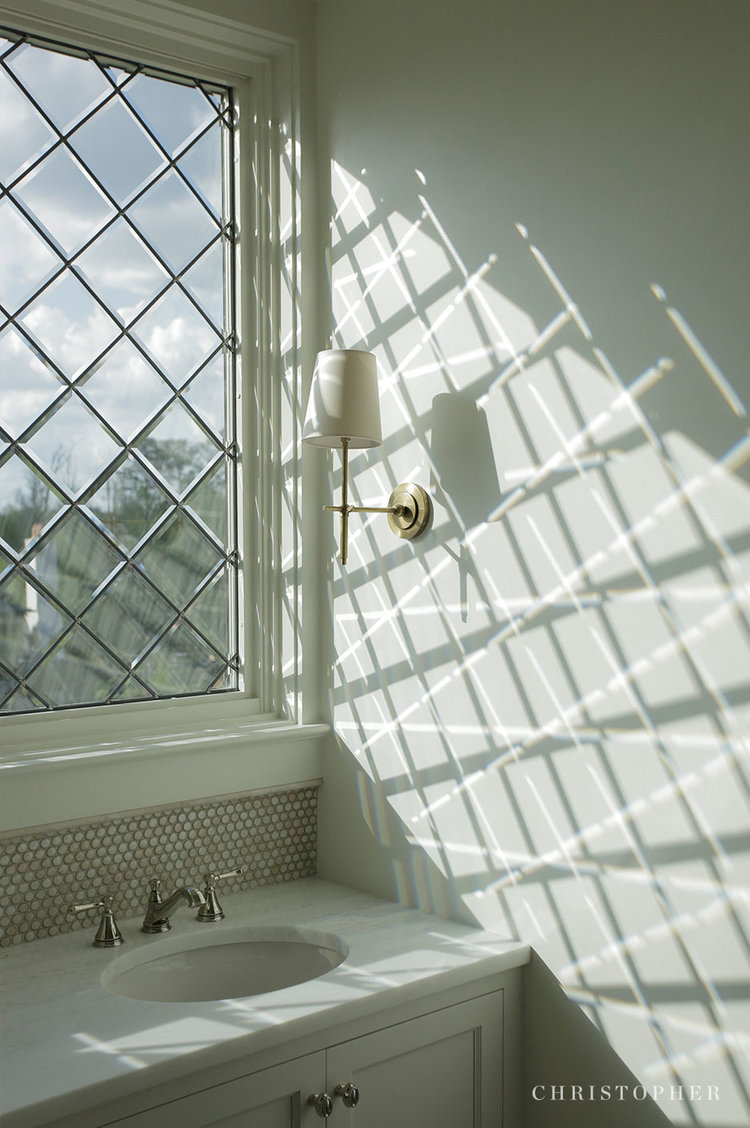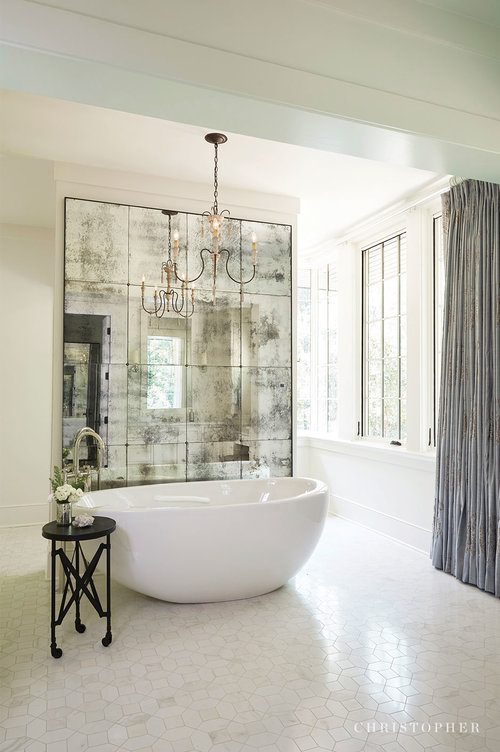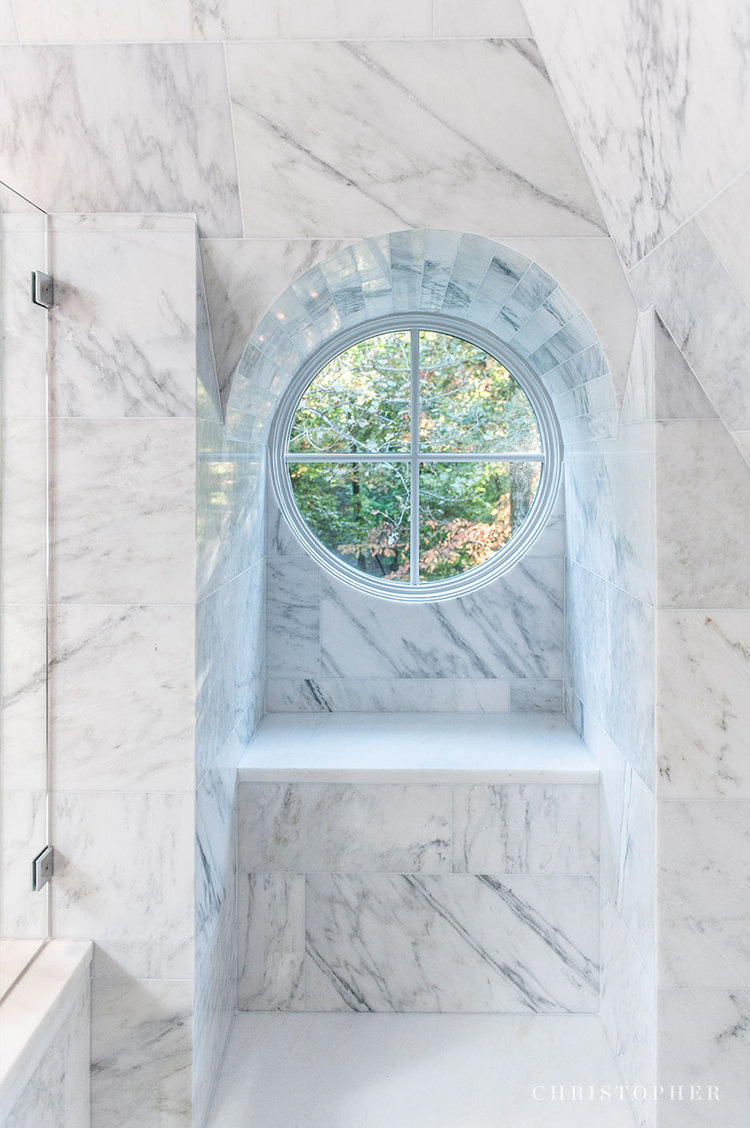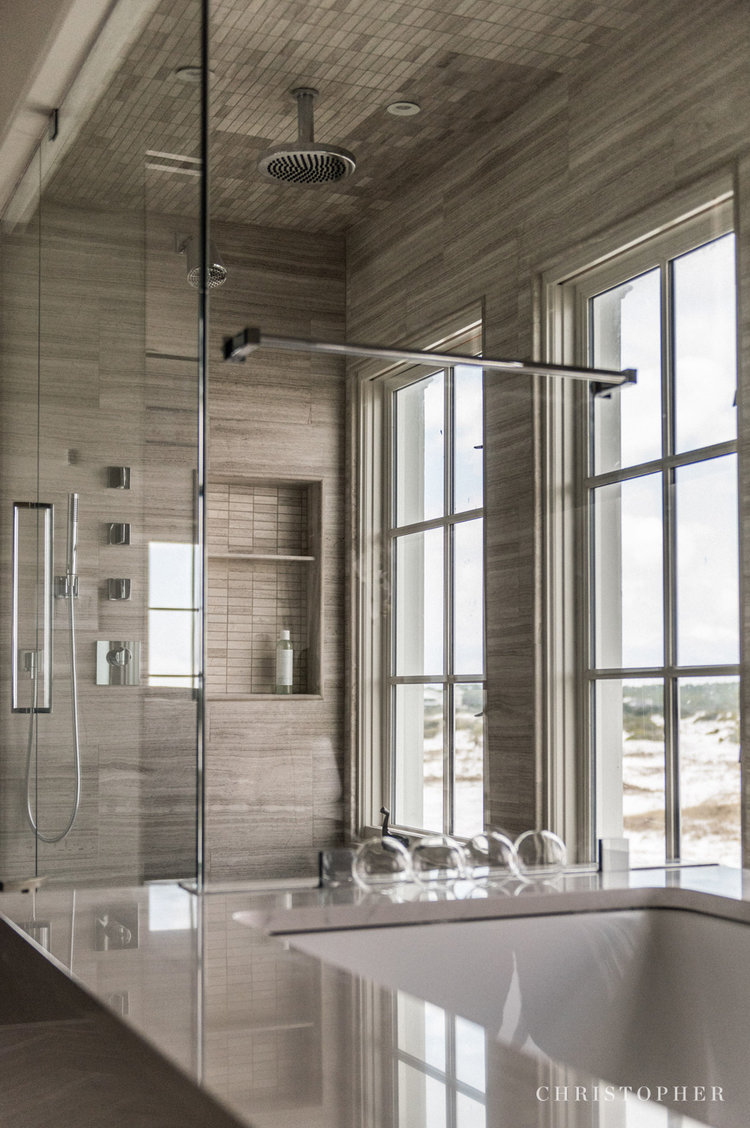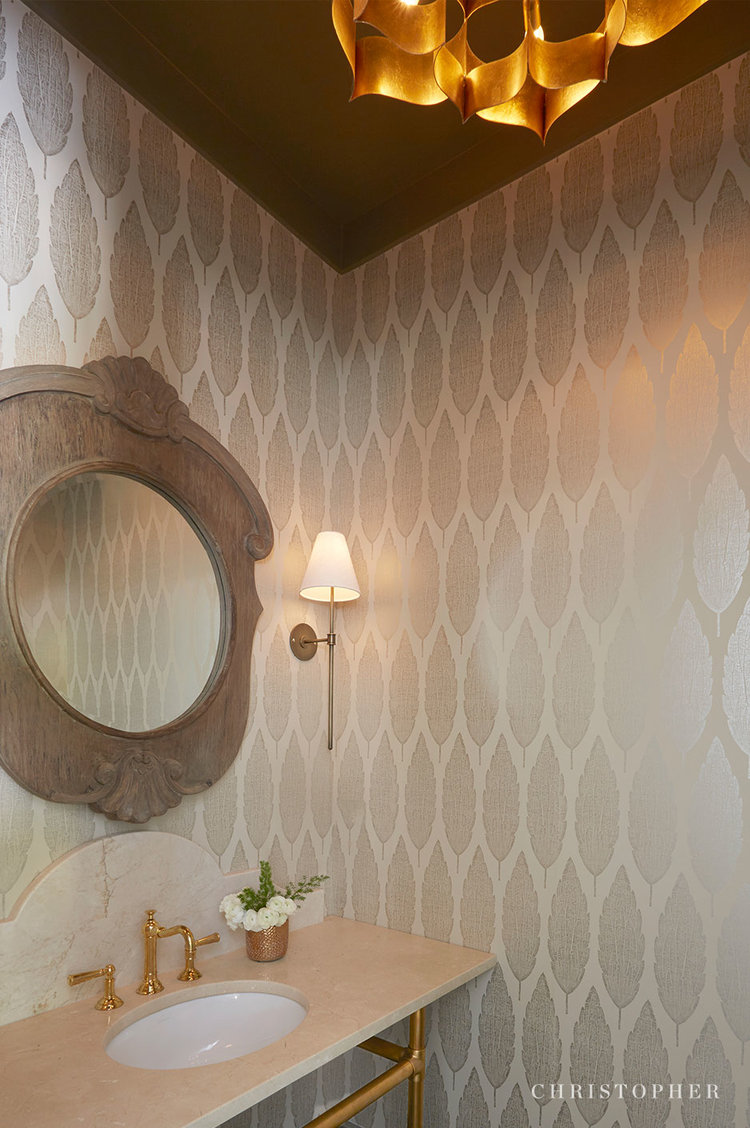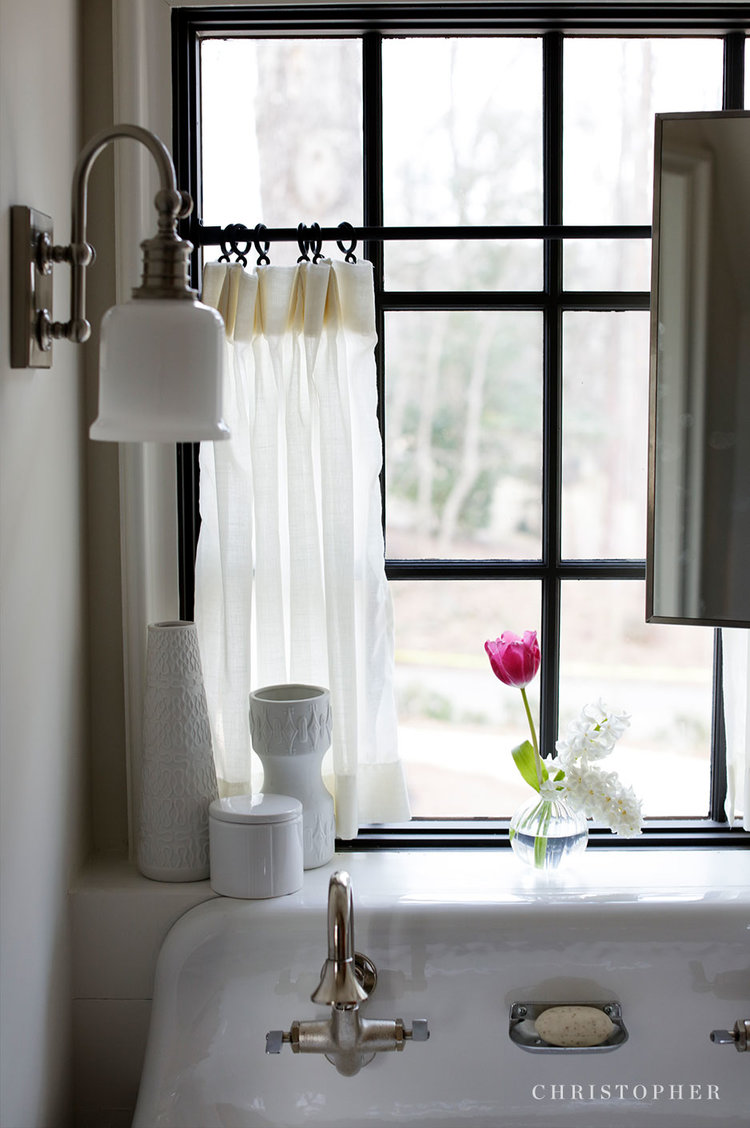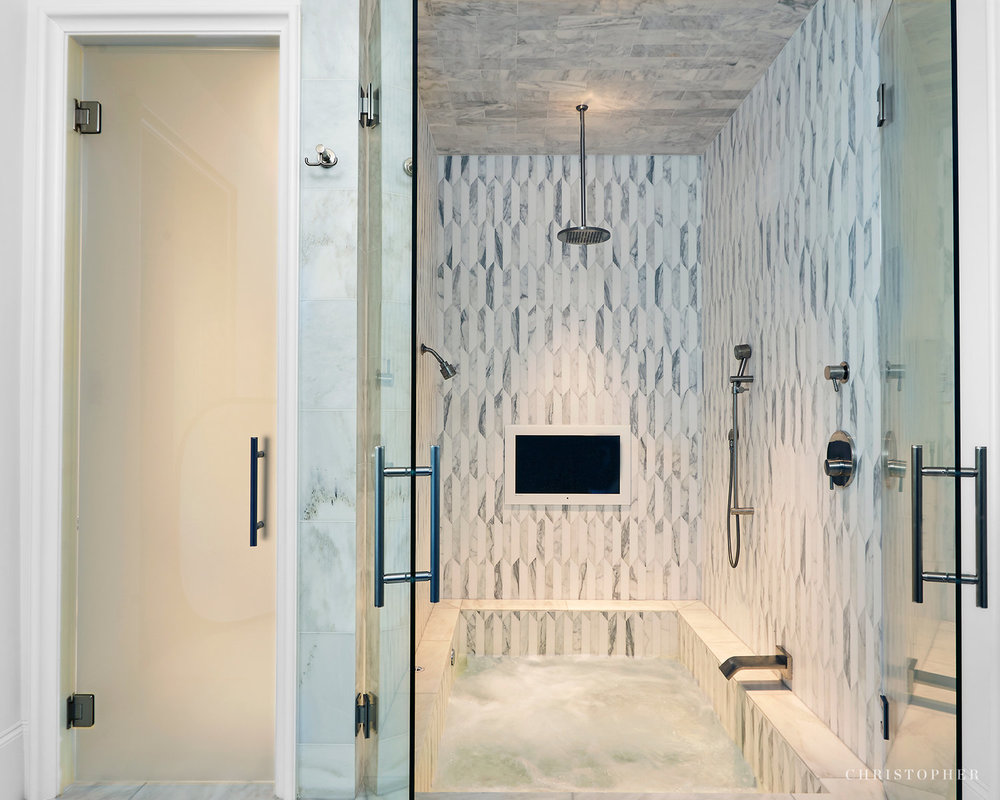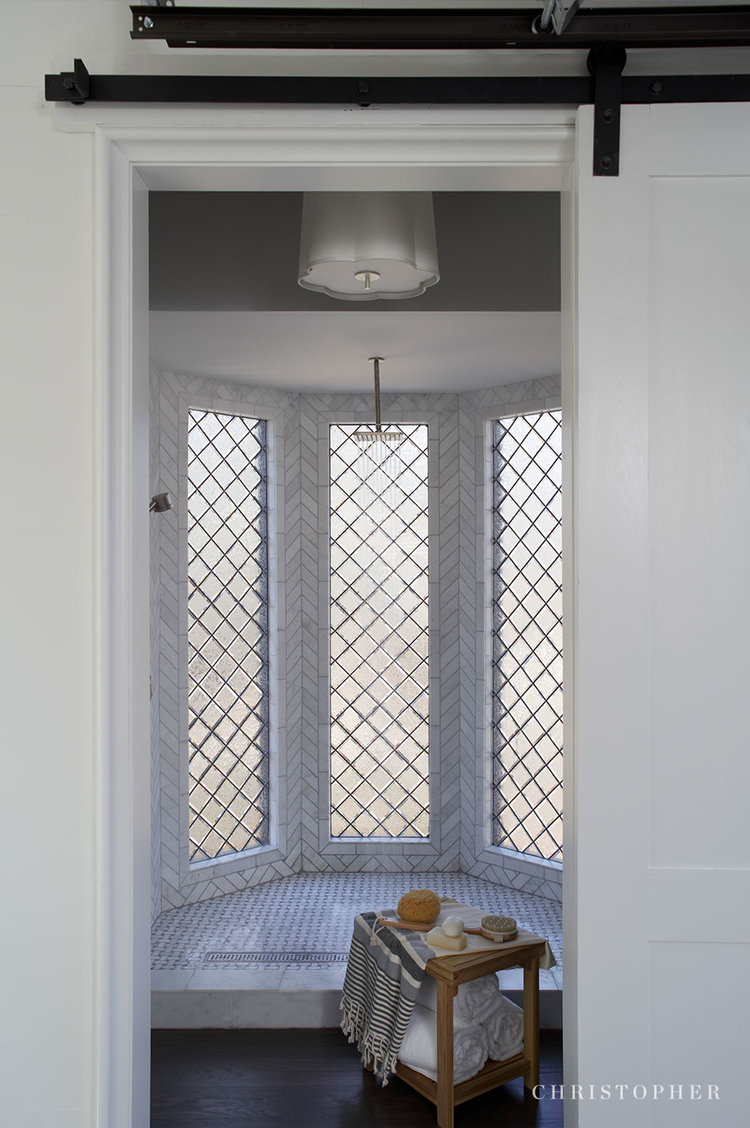 The Way Good Architecture Feels
Sometimes the desire to design in contrast rather than in context can be hindering. If we design in contrast, in an effort to stand out and create something notable, we run the risk of its uniqueness contributing only chaos instead of insight or reflection of the current society or the personalities of the occupants.
Properly addressed contextual considerations like time, space, and people will reduce chaos if not eliminate it. The heavy-hitter for our firm in this line-up is people. We ask ourselves questions like, "What are the occupants' traditions? What are their perceptions? What are their needs?" These are not questions we ask and answer once, of course. We are continually asking them, answering them, and then asking again.
Residentially speaking, this contextual element is obviously necessary. However, is it less-necessary in commercial architecture? We don't think so. We are currently constructing a new office space for CAI in Birmingham, and as with every project, we want to know what the occupants will need. What will make their professional lives better, more efficient, more beautiful, more inspiring?
Contextual design that fits well and feels right is a non-negotiable for CAI.
Want to see more of our commercial projects?